Skip to Content
From Past To Present
A Timeless Seaside Resort
For more than a century, Seaview has reigned as the Jersey Shore's most iconic resort. Set on 670 acres near Cape May, our grand hotel has welcomed countless luminaries and hosted innumerable events, ranging from Grace Kelly, who celebrated her Sweet 16 in 1945 to Mick Jagger, who took up residence during the Rolling Stones' Steel Wheels Tour in 1989. On your next visit, we invite you to explore the Seaview Celebrity Wall just off the main lobby.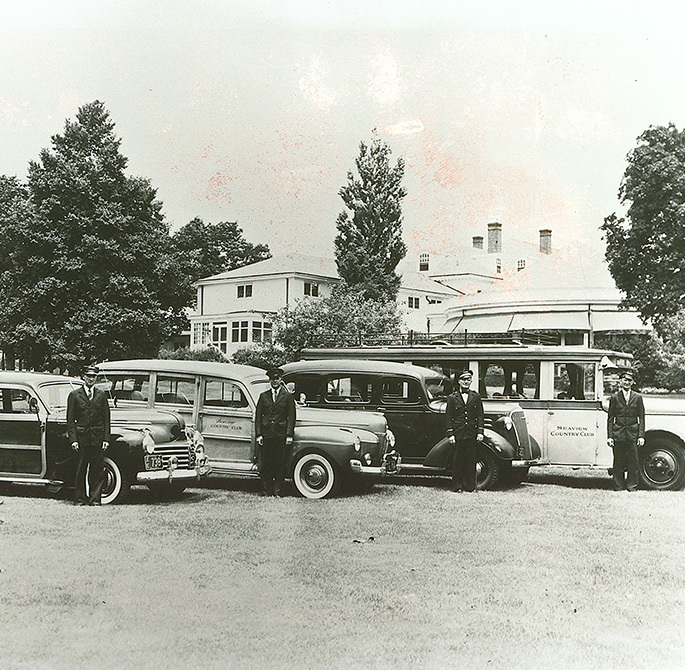 Historic photo of men in front of buses for the Seaview Country Club
Welcome to Seaview, A Dolce Hotel
For over a century, this special hotel has been celebrated as the Jersey Shore's most iconic with a rich history of welcoming presidents, rock stars, golf's greatest champions and the otherwise rich and famous. Names like Snead and Ross, Jagger and Jordan, Hope and Crosby, Kelly and O'Connor. With new ownership and a sincere commitment to preserving the Hotel's past while also investing substantially in its future, Seaview is reemerging as the Jersey Shore's finest destination hotel. To fully appreciate this remarkable place, we suggest you take some time to wander our 670 wooded acres and discover the many facets, features and faces of Seaview Hotel.
The Hotel
Seaview opened its doors in 1914 as a private golf club. Its owner, Clarence Geist, after a lengthy wait to get on the first tee at a local golf club, decided to build his own. Now, over a hundred years later and through numerous embellishments, Seaview is back and prepared to take its place as one of America's preeminent hotel and golf clubs.
Driving through the property's main gates, guests catch their first full glimpse of Seaview, an elegant, grand hotel framed in flowers and greenery. Across the road, a neatly trimmed hedge row, behind which lies one of the Hotel's storied golf courses, The Bay. As you enter the main lobby, take a moment to enjoy the detail and craftsmanship of the original hotel architecture. Realize, too, that you have now joined both the famous and infamous who, upon arrival, have stood in this same space and marveled at the grandeur of this classic hotel.
Renovated Dining Room
The Main Dining Room
In the day, Seaview's Main Dining Room was the place to be - and be seen. Joan Rivers was a frequent guest at the dining room's sumptuous Sunday Brunch which remains one of "New Jersey's Best". During dinner, impromptu performances would break out by the likes of Tim Conway and Harvey Corman. It's also rumored Keith Richard's and Eric Clapton shared breakfast here during the Stone's Steel Wheels tour. With panoramic views of the famed Bay Golf Course, the back-bay marshes and Atlantic City, and an impressive 700 pound chandelier, we highly recommend you, too, share a meal in the magical Main Dining Room.

Location: South Main Lobby
The Oval Room
Named for its rounded architecture, the Oval Room currently serves the Hotel as a unique banquet and meeting space. But it also once served as a birthday ballroom for a princess. In 1945, Grace Kelly danced with her father in celebration of her sweet 16 th . Of course, this remarkable young lady would soon become a Hollywood star and then Princess Grace of Monaco but, for that night, her kingdom was Seaview Hotel and the Oval Room.

Location: North Main Lobby adjacent to the Lobby Bar.
Renovated Coastal Grille Dining Room
The Coastal Grill
Standing on the original site of a farmhouse turned clubhouse, The Grill's hand crafted terra cotta floor tiles and brick work from 1914 remain undisturbed. Over the years, some of Atlantic City's most colorful characters frequented The Grill where it's been rumored Al Capone tested the proof of moonshine on the restaurant's original bar top. Black singe marks still remain on the brick. When you visit here to enjoy our creatively classic menu of "farm & ocean to table" cuisine, take a moment to toast a bygone era that to this day lives on at the Seaview Grill.
Location: Next to Guest Registration Lobby
Renovated Front Desk and Lobby
Seaview Celebrity Wall
For over a century, Seaview Hotel has been a favored haven of the rich and famous. From Hollywood luminaries to sports stars to heads of state, Seaview has provided them all a secluded sanctuary to relax alongside others pursuing the very same pleasures. Just off the main lobby as you walk to your guest room, pause to view a gallery of celebrities who, like you, have chosen Seaview as their home on the Jersey Shore.

Location: North of Registration Lobby
Seaview Indoor Pool
Built as part of the original clubhouse, Seaview's indoor pool was filled with saltwater piped in directly from the bay making it a unique feature among country clubs at the time. Then, in 1962, the pool was shortened and converted to fresh water.

Location: South of Coastal Grill
Black and white photo of the front of the hotel
The Hotel Gallery
Spend time reflecting on the Hotel's storied past by wandering through a gallery of historical photography. See the original 1914 Clubhouse, Sam Snead holding the Wannamaker trophy after winning the PGA Championship and Donald Ross's original golf course plan. You may also be surprised to discover that King Tut was once a guest of Seaview.

Location: Next to the Indoor Pool and Golf Shop
Two women in an art exhibit with three blue paintings on walls
The Noyes Gallery
Not far from the Hotel Gallery is another of the Seaview's hidden treasures. Paintings on loan from the Noyes Museum rotate throughout the year and feature contemporary works by local and regional artists. The original founders, Fred and Ethel Noyes, were also the developers of the Town of Historic Smithville just minutes from the Hotel. Fred Noyes was himself an accomplished artist and one of Seaview's Presidential Suites is named in his honor.

Location: End of Golf Shop Hallway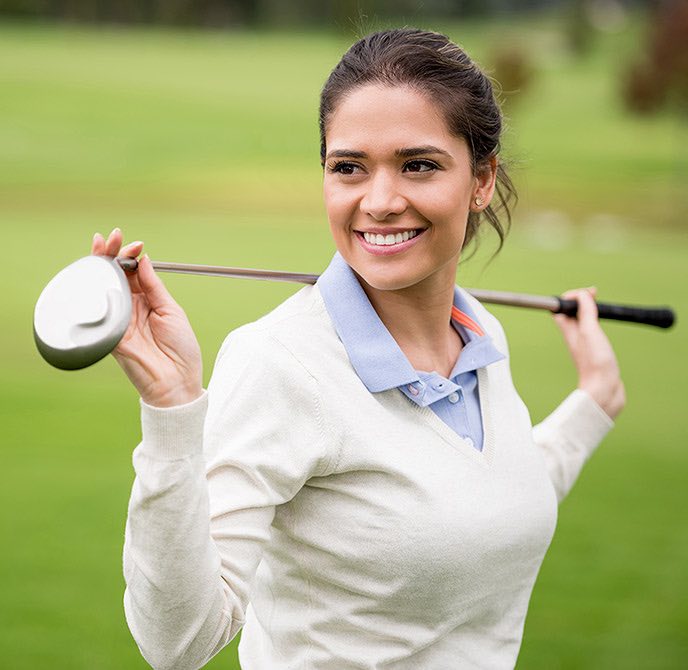 woman holding golf club
Walk of Fame
Designed by world renowned architect, Donald Ross, Seaview's Bay Course is one of America's great tests of golf. It's also home to the ShopRite LPGA Classic held each year in early June. On your way to the Number 1 tee, Seaview's Walk of Fame introduces you to some of the golf's very best including past winners of The Classic. As you arrive at Bay Number 1, stop a moment to consider all the great players that have enjoyed this same view. "Now on the tee …"

Location: Walkway to Bay Course
crowd walking on a course during a golf tournament
The Pines
Home Course of "The Shot"
From Ben Hogan to Annika Sorenstam, Seaview has been host to golf's greatest players and some of its greatest moments. In 1942, the PGA Championship was played on The Pines course. It was during a play-off that Sam Snead won his first of 7 Majors with a remarkable 60 foot chip-in. Known as The Shot. A tee monument now commemorates this remarkable achievement where guests can visit to marvel at the hole made famous by Slammin' Sammy.

Location: Behind Hotel - Pines Course #16 tee
Grass lawn with buildings far in background
A Walk in the Woods
Seaview Hotel sits on over 600 wooded acres and is part of the New Jersey Pinelands (also known as the New Jersey Pine Barrens), a forested area of over one million acres. It also includes one of North America's largest fresh water aquifers producing some of the purest water in the world. Our walking trail showcases this unique setting and is home to a variety of flora and fauna. From red maples to red-tail hawks, pitch pines to peregrine falcons, the trail encircles The Pines golf course where you may also site a birdie or two.

Location: Trail head located next to Pine Golf Course #1 tee.

Seaview Hotel's roof is now a nesting home to peregrine falcons. From January to March look high atop our water tower to spot these impressive birds as they protect their nest and hunt for prey.
Hall of Presidents
Starting with President Warren Harding, one of the original members of Seaview Country Club, Seaview has hosted Presidents, Heads of State, Supreme Court Judges, Governors and other important political figures. Visit the Presidential Ballroom to view a gallery of some of the more notable notables.
Location: Presidential Ballroom Prefunction Area
a meeting room set up for a discussion panel
Atlantic Meeting Rooms
Although named for local beach towns, these meeting rooms were once a large penthouse suite. It was here that Mick Jagger and the Rolling Stones resided for a week in 1989 during their Steel Wheels Tour. Many staff members who remember the Stones visit still refer to this space as the Jagger, Richards, Wood, Wyman and Watts meeting rooms.
Location: 2nd Floor over Main Lobby