Skip to Content
Our Blog
Things to do Along the New Jersey Shore
From our favorite local events and entertainment to fun on the Atlantic City Boardwalk, Seaview staff happily share their insider intel for getting the most out of your Galloway getaway. Read on to find out what we're excited about right now.
a bride and groom smiling at a wedding
Plan Now to Celebrate Your Wedding at Seaview
The sun is shining. The ocean is sparkling. And the sea breeze compliments the view at Seaview Dolce. It's a gorgeous time of year at the beach, and we'd like to take the opportunity to invite you to see how Seaview sparkles in the sun. After all, we're so much more than a place to sleep, to golf, and to relax. We're a wedding venue, too, a mere 25-minute drive from Atlantic City. Described by some as a "quintessential seaside resort on New Jersey's shore," Seaview is your perfect combination of luxury service and seaside charm. So come say "I do" with us.
Learn More
a person holding a golf ball
Sink a Putt in History at Seaview Golf Club
For more than a century, Seaview has reigned as the Jersey Shore's most iconic resort. Sure, we're partial, but our grand hotel has welcomed countless luminaries and hosted historical events, ranging from Grace Kelly's Sweet 16 in 1945 to Mick Jagger's summer home when he took up residence during the Rolling Stones' Steel Wheels Tour in 1989. But outside our storied walls is a proud bit of history as well, and we're excited to "chip" away at it. This summer, tee off at Seaview Golf Club and sink a putt in more than 100 years of history.
Learn More
a group of people holding beer bottles
Atlantic City Beer and Music Festival
Mark your calendars now and make plans to attend The Atlantic City Beer & Music Festival returning to the Jersey Shore June 3rd and 4th at Bader Field. For nearly two decades, the festival has attracted thousands of visitors to enjoy a taste of more than 30 breweries. This year though, the festival is making a grand return with more than 100 breweries and brew masters setting up shop to quench guests' thirsts.
Learn More
two fresh caught fish on a plate by the ocean
Reel in a Big Catch at the Shore
With 141 miles of coastline and an abundance of species, the Jersey Shore is one of the most popular places for surf fishing. Whether one prefers sandy beaches, rocky jetties, or the backdrop of the lighthouse, anglers will find opportunities aplenty for fishing from shore in the Garden State. And when you stay at Seaview, some of the best shoreline is practically a stone's throw away. So bring your lures and catch to keep!
Learn More
close up shot of birds on a sandy beach
Spotlight: Edwin B. Forsythe National Wildlife Refuge
Spring is here and with it comes beautiful new greenery, migratory birds, and hope for a season of new growth and harmony. Seaview Hotel is fortunate to have a front row seat to nature's spring debut at the Edwin B. Forsythe National Wildlife Refuge, an incredible preserve that protects more than 47,000 acres of southern New Jersey coastal habitats and wetlands. We'd like to give you a tour, in words, of what's there, why the refuge is so important to us and our region, and how you can visit when you're here. Visit Seaview and watch this season of renewal spring into action.
Learn More
A red box with a gold ribbon and truffle chocolates all around it
A History Lesson in Chocolate
This month, as you find a way to celebrate–or muddle through–February 14th, we'd like to share what we've learned about one of the longest-standing Valentine's Day traditions, that is, gifting and eating chocolate. A heart-shaped box of chocolate is often considered a sign of love. But why? Read on to find out, and at the end, learn where you can buy some when you stay the night with us at Seaview.
Learn More
New Jersey beach coast
Make the South Jersey Coast Yours this Winter
Colder weather brings an incredible peace and quiet to Jersey shore towns that practically reel with summer crowds months before. That means now is the perfect time to plan an off-season getaway. Imagine a world where there's no wait at the best restaurants and no sound but the ocean just a few feet away. Spend the night at Seaview and explore the coast by day,
Learn More
sketch of an elephant
The Story of Lucy, Margate's Resident Elephant
From Seaview, it takes about 45 minutes to drive to the Cape May Zoo, where you can see a lion and zebras, a giraffe, and even a kangaroo. But to see an elephant, you just have to pop over to Margate. That's right, of all the sites to see along the Jersey Shore you might not expect a six-story tall elephant to appear just south of Atlantic City. But it's the truth! And this month, we're going to tell you how she got there.
Learn More
an image of a painting by Linette Child's of a sailing boat with pastel and dark colors
Bringing Museum Artwork to You
At the end of Seaview's Golf Shop hallway is an Art Gallery, one we think you'll love to visit when you stay with us. Different from the Hotel Gallery that features historical photography of the property, our Art Gallery displays paintings on loan from the nearby Noyes Museum. Our one-room exhibits rotate throughout the year to feature contemporary works by regional and local artists, like Leon D Wescoat III whose work we detailed back in March. The Art Gallery's original founders, Fred and Ethel Noyes, were also developers of nearby Historic Smithville, just minutes down the road. Noyes, as it happens, was an accomplished artist himself, and has one of Seaview's Presidential Suites named in his honor. Currently on display in the Art Gallery, are a few of local artists, Linette Childs' works, a woman we're thrilled to feature during the holiday season. Of course, if you like what you see on display in our Art Gallery, take time to see the artists' complete works at the Noyes Museum of Art at Stockton University. The exhibit will open to the public on November 14th and the opening reception is on November 19th from 4 to 6 pm, but the work will be on display through January 2nd, 2023. To appreciate Linette Childs' work, we must understand more about her.
Learn More
boardwalk at the beach at nightfall
Walk the Historic Atlantic City Boardwalk
Atlantic City is a mere 10 miles from Seaview's scenic shoreline and we'd like to take a few minutes to tell you about its first main attraction. The AC Boardwalk, as its affectionately known, is more than 150 years old and still draws crowds from all over the world. But what makes it so special? How did it get its name? And what did it look like when its first visitors strolled its length in their bathing costumes? Take our hand and ready yourself for a historic walk down the first boardwalk to learn some of the surprising histories of the grand structure by the sea.
First constructed in 1870, the boardwalk came to be 16 years after the resort city was incorporated by the New Jersey legislature. At the time, Atlantic City was viewed as a prime piece of real estate, and its development– boasting unparalleled ocean views– immediately attracted wealthy visitors.
Learn More
white lighthouse in middle of urban construction
Visit New Jersey's Tallest Lighthouse
This month, climb up to travel back in time to one of the country's oldest lighthouses. A short 20-minute drive from Seaview, Absecon Lighthouse rises 171 feet in the air, making it the tallest lighthouse in the state of New Jersey and the third tallest masonry lighthouse in the nation.
The iconic Absecon Lighthouse is not only one of the country's oldest lighthouses, it's also the tallest lighthouse in all of New Jersey. For just a small fee, visitors can climb its 228 steps to see breathtaking views of the Atlantic City skyline and see the original First-Order Fresnel Lens, made in Paris and first lit in 1857. The white light shone almost 20 nautical miles out to sea. The idea for a lighthouse was born three years before by a man named Jonathan Pitney– considered by many to be the "father" of Atlantic City– who asked Congress for $35,000 to build one. Construction on the lighthouse began a year later and was led by Lieutenant George Meade who would later command the Union Army at Gettysburg. More money was granted to the cause to finish the construction of the lighthouse which ended on January 15th of the following year.
Learn More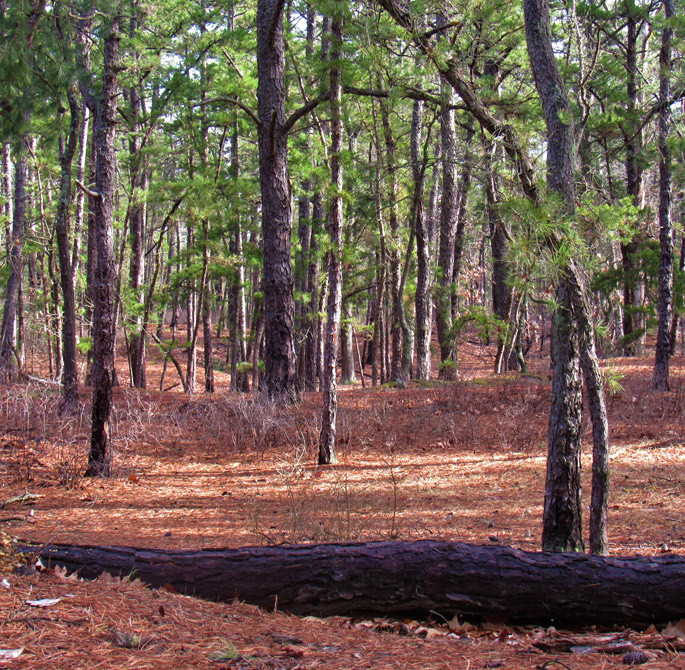 dry forest with a fallen tree
Discover New Jersey's Pine Barrens
Covering much of southern New Jersey in a uniquely beautiful forest of greenery is a hauntingly rich ecosystem called the Pine Barrens. Its 1.1 million acres of protected land is so often underappreciated we thought we'd take the opportunity this month to tell you about it. After all, it's right in Seaview's backyard.

By its official name, the Pinelands Natural Reserve– established in 1978– stretches south and west from northern Ocean County, New Jersey to cover 22 percent of the state's total land mass. That makes it bigger than either Yosemite or Grand Canyon national parks. But what makes this big swath of land so special? Beneath the pines lies a natural reservoir of bacteria-free, chemically pure water that the U.S. Geological Survey has compared to "uncontaminated rain-water or melted glacial ice." It has the color of steeped tea thanks to the iron in the ground and tannins from rooted cedars, but it's potable!
Learn More
a couple wearing a married ring at a wedding
Say "I Do" at Seaview
It's a gorgeous time of year at the beach shore, and we'd like to take the opportunity to invite you to see how Seaview sparkles in the sun. After all, we're so much more than a place to sleep, golf, and relax. We're a wedding venue, too, just a short 23- minute drive from Atlantic City. Described by some as a "quintessential seaside resort on New Jersey's shore," Seaview is your perfect combination of luxury service and seaside charm.

With more than 34,000 square feet of event space that includes both indoor and outdoor sites, there's plenty of space to realize your dreams. Exchange vows on the Oval Lawn featuring manicured landscaping and ocean views across the Bay golf course, or say "I do" on Bayview Terrace under a picturesque gazebo. The Centennial Pavilion is a covered outdoor space that's bordered by views of the wooded Pines Golf Course. At any of the sites, couples will have ample room for all of their cherished family and friends.
Learn More
exterior shot of seaview dolce resort
The Man Who Built Seaview
This month, we tip our hat to Seaview founder, Clarence Geist, a man whose riches once built a haven for golfers and country club elite but today have grown to serve thousands of solo travelers and humble families seeking simply to find and enjoy a refuge at the Jersey shore.
Described to have been a self-made man, Clarence Geist became a mulitmillionaire thanks to his investment, ownership and monopoly of major utilities. According to various sources, his big break came after meeting former United States Vice President under Calvin Coolidge, Charles Dawes of the South Shore Gas Company. With this connection, Geist quickly acquired Atlantic City Gas & Fuel, both serving Atlantic City and the vicinity. And having established profitable roots in Pennsylvania, New Jersey, and Deleware, Geist established homes and offices in Atlantic City and Philadelphia, but spent much of his free time playing golf. In no time, he became President of the Whitemarsh Country Club near Philadelphia and was a member of the Atlantic City Country Club, too. But, according to sources, traveling between them by horse and buggy, trolley, or train grew tiresome for Geist, and so with his fortune, he determined to build his own course. Seaview Country Club, costing $1.5 million, opened a year after construction began in January, 1915.
Learn More
backlight take of a man riding a horse in a flat landscape
Gallop into the Sunset at Rockin' J Ranch
Seaview Dolce is partnering with Rockin' J Ranch in Egg Harbor City to bring you an exceptional experience…on horseback! Get riding or training lessons from professional instructors, let us host your birthday party, or ride off into the sunset when you spend the night with us at the Jersey Shore.
Rockin' J Ranch brings authentic cowboy experiences straight from Texas right onto the east coast of South Jersey. Ranch owners Morgan McCracken Johnson and Brian Johnson have come to teach young and old, novice and experienced riders alike how to ride "the cowboy way." Open 7 days a week, you can enjoy horse riding lessons, barrel and roping lessons, western experiences and walkabouts, pushing cows, and much more! Have a horse of your own? The Ranch also offers boarding for horses and horse leasing. You can take advantage of a brand new offering at the Ranch, too, with its afternoon or sunset wine rides. Valued at $200 a person, you'll get a quick intro to horse riding before your 45 minute with the animals on the ranch, plus a 45 minute trail ride. When it's all over, loop back for a wine and cheese spread sure to satisfy your tastebuds. Call Seaview Dolce today to learn more about the packages and group deals we're offering in partnership with Rockin' J Ranch, and let your inner cowboy and girl shine!
red wine grapes ready to harvest
The Wine & Ale Trail of South Jersey
Many of us associate fine wine with the rolling hills of Tuscany, Bordeaux, South Africa, Patagonia or Napa Valley. But what if we told you right here in southern New Jersey, there's a delightful and palate-satisfying wine trail you can follow, too?
The Wine & Ale Trail of South Jersey is a magic, one-of-a-kind trail that combines internationally recognized wine, and the artistry of locally brewed ale. Throwing down roots between Philadelphia and Atlantic City, Garden State grapes offer flavors not sampled elsewhere that are wowing both visitors to the region and doubting locals. Indeed, there's something for everyone with an experience that will take you from barrel to bottle on a full spectrum of flavors that are young in age yet fully established in expression. The twelve wineries and breweries along the Wine and Ale Trail traverse a handful of towns nestled within and around the preserved wild places of the New Jersey Pinelands. These include Autumn Lake, Coda Rossa, Bellview, Sharrott, and Plagido's wineries, as well as Vinyl, Three 3's, Chimney breweries, and a few distilleries. When you stay at Seaview, you'll be right next door to the trail whose curators suggest splitting the tour between two days. The entire area could be covered within a couple hours of driving, but why rush? Stay with us for a long weekend and taste the best South Jersey has to offer.
local oil paint art work
Supporting a Local Artist and his Love for Nature
Visit the Art Gallery at Seaview Dolce and jump into the paintings hanging on the walls. Leon D Wescoat III is the property's featured artist this month, and his realistic, yet playful scenes makes it easy for any area visitor to imagine how his surroundings have inspired his work.
Born into a tugboat and marine construction family in the 1950s, Leon D Wescoat III is an artist of humble beginnings. Growing up on the water and watching his family work instilled his love for all things nautical and in time, inspired the strokes of his paintbrush. He's been painting for more than thirty years with no formal training, yet has been able to improve and hone his skills with practice and dedication to the craft. Those who see his work often look twice; could it be a photograph? He'll sometimes paint from a photograph he's taken, but most of the time, he paints from the memories of his everyday adventures. Recently, Wescoat has started painting outdoors on site to improve technique and push his craft further. When he's not painting or at home with his family, Wescoat works in heavy marine construction. We at Seaview feel fortunate to exhibit his work and join the ranks of dozens of galleries and museums that have recognized his incredible talent.
person making tiles
Look Down! There's History Underfoot!
We already love our grille room and bar and indoor pool, but now we have a reason to shout about them. Thanks to the keen eye of some of our thoughtful staff, we've discovered the tiles in these beautiful spaces date back more than one hundred years.

Grouted underfoot in the Seaview grille room bar and indoor pool is tile that dates back to 1914 and was manufactured by a company called Mercer tile located just outside of Philadelphia. Moravian Pottery and Tile Works in Bucks County Pennsylvania, built between 1911 and 1912, was once the sole producer of artistic tile for public and private buildings across the country. In its prime, a reign that lasted about thirty years, founder Henry Chapman Mercer's work gained recognition as a bastion of the American Arts and Crafts Movement. Today, the Moravian Pottery & Tile Works operates as a working museum where you can dive into the world of the late craftsman and watch trained and talented craftsmen mold wild Bucks county clay into Mercer tiles. Just something to think about when you visit us at Seaview and consider that each step forward is also one back in time. Book your stay with us today and discover your place in history!
sand castles at sunset
Find Tranquility in Off-Season Ocean City
When temperatures dip below freezing, our first thought isn't usually to visit the beach. But maybe it should be. When staying with us at Seaview, you're surrounded by water and sweeping panoramas of our favorite landscape. So, get there and see it for yourself, this month, in neighboring Ocean City.
Year-round residents will tell you the off-season is the best season. Instead of vying for parking spaces or the perfect patch of sand to lay your towel, you get the whole beach to yourself, every day. Sure it's cold and the wind can blow something fierce, but that's winter anywhere in the northeast. Why not complement the elements with the soothing ethos of waves breaking at low tide, fiery technicolor sunsets, and meditative walks along the boardwalk. Trade sunburns for serenity and sunblock, for scarves, and wear your shades–sunlight glistens all the brighter on the water in winter. White lights twinkle from trees once as you arrive on the island and guide your way along downtown Asbury Avenue. Locals and visitors alike call it the perfect place for reflection and tranquility. But don't take their word for it; come feel it for yourself.
couple under a mistletoe
Learn the Secrets Behind Your Favorite Christmas Traditions
"Here we come a-wassailing among the leaves so green!" And here we come a-wondering what "wassailing" even means! This December, we're taking a moment to discover this and other untold stories behind some of our favorite Christmas traditions.
First things first, wassailing hails from the lips of Anglo-Saxons who would drink wassail, a mulled and spiced ale, and extend tidings for good health. Caroling itself likely has roots in B.C. Europe when carolers would go door to door to perform skits with hopes to bring good fortune and a bountiful harvest to their audience. If the thought of wassail is making you thirsty, perhaps you're curious about egg nog? Eggs and cream were commodities and readily available in medieval Europe, but the spices added to egg nog, including cinnamon and cloves, were not. For this reason, the rich combination of ingredients was often reserved for special occasions, like Christmas.
What's the story behind all the greenery we twirl and swg?
Learn More
brunch with french toast and berries
History of Brunch
We serve it, but we can't take credit for the idea. At Seaview, brunch is one of our favorite, most anticipated meals of the week, and while it looks every part sweet and savory, it's probably richest in its history.
The Oxford dictionary gives brunch a birthday in 1895 when it was mentioned in a British publication called Hunter's Weekly. "Brunch...sweeps away the worries and cobwebs of the week," the author wrote. It was only a year later that brunch got a mention in the Washington Post as a "fad" that is "a repast at 11 o'clock a.m." But who stirred up a recipe to go with the name? Some suggest it was a hunter's meal first, intended to be served after the hunt with a spread of the morning's spoils. Others pin the tradition on fasting Catholics who would combine breakfast and lunch in one meal after returning home from Sunday mass. A third camp suggests brunch began in Chicago where transcontinental railway travelers would stop to refuel after a morning of travel. It was in this spirit, perhaps, that American hotels seized an opportunity to serve Sunday brunch to its guests, many crafting lavish buffets with all the traditional treats one might expect.
Learn More
A Great Blue Heron next to a lake
More Than Just a Pretty View
As our name suggests, Seaview Dolce offers sweeping seaside views of southern New Jersey's gold coast. But, this fall, follow the breeze north and discover the lush marshland and teeming coastal habitats you'd be crazy to miss.
Atlantic City County and Galloway Township are the proud home of 47,000 acres of pristine, protected coastal land, and it's open to visitors like you. One of the country's 555 refuges, the Edwin B. Forsythe National Wildlife Refuge happens to hold a special place in birders' hearts as it's one of the Atlantic Flyway's most active flight paths. During migration season, which begins in September and stretches into November, birders' flock to the refuge and surrounding coastal areas with hopes to catch sight of loons, gannets, scoters, falcons, hawks, and raptors. But it's not all about the birds. Forsythe is also your destination for fishing, photography, nature hikes, guided walks, and more. So after your sunrise walk on the bay shore, check in with our friendly concierge to learn what might be on offer that day and plan your visit to our big backyard. Learn more by visiting our website.
beach cruisers atlantic city new jersey
Experience the Jersey Shore Off-Season
Sure, the whole world knows Atlantic City for its casinos. But there's a whole lot more fun to be had that has nothing to do with gambling. We've featured the state's highest lighthouse in Absecon in a previous blog with its 228 steps. But have we mentioned the well-kept secret of the city's boardwalk extension? You'll see lots of cyclists, joggers, and walkers stroll the length of the boards, but few may notice how the real estate changes at the end. Where the shop fronts end, the views begin, with largely unobstructed views of the Atlantic's crashing waves, jetties, and jagged rocks. But don't end your walk there — rent a bike and breeze down the boardwalk to Ventnor, a short four-mile journey away, to explore the downtown or hang out on the fishing pier. One-Stop Bait & Tackle in the city rents out rods.)Or, if you simply wish to get your feet in the sand, both Brigantine and the southern end of Atlantic City including Bartram Avenue Beach, are ideal stretches of coast. You might even find you have the whole place to yourself!
white wine being poured
Discover the Charm of Historic Smithville
What began as a humble stagecoach stop more than 50 years ago has blossomed into a memory-making overnight destination. Just a few miles north of Seaview is historic Smithville, with a quaint downtown setting snug with more than 60 inviting painted-clapboard shops. Wander along the village's cobblestone walkways and over the scenic footbridges to discover a hidden New Jersey gem that seems as if it were frozen in colonial time. Thoughtfully manicured grounds and striking attention to detail make historic Smithville a pleasure to relax and explore. If shopping isn't your thing, watch the carousel spin its magic and the paddle boats float around Lake Meone. Make time to get in a boat yourself to glimpse a sweeping view of the village from the water's edge. There's a Car Cruise on September 10th and 27th as well as an antique show on the 13th, all on Smithville's Village Green. Still not convinced to visit? Let Seaview sweeten the deal by offering you a deluxe room with welcome cocktails for two and a $50 gift card to either the award-winning Inn at Smithville or Fred and Ethel's restaurant. Book the "Discover Smithville" package today by clicking the 'offers' tab on our website and scrolling to the first entry under our Garden State Getaways, or simply click here. Luxury awaits!
Chef Rodolfo Correa at Seaview Hotel
The Face Behind The Fare: Executive Chef Rodolfo Correa
Though he oversees the entire culinary experience at Seaview, imparting his special flair on each dish prepared and every cocktail poured, it's rare that those enjoying his masterpieces ever come face-to-face with the man behind the fare: Executive Chef Rodolfo Correa.
Spending countless hours orchestrating behind the scenes, Chef Rodolfo, or Chef Rudy to us, and his team have done more than deliver since he's arrived—even earning a spot in OpenTable's "100 Best Brunch Restaurants in America" list to start.
Learn More
atlantic city boardwalk
Climb Aboard the Atlantic City Boardwalk
Built in 1870, The Atlantic City Boardwalk still stands long and proud, reeling in hundreds of visitors every year. Wonder at the expansive, over 4-miles-long American landmark. Built in 1870, The Atlantic City Boardwalk, still stands long and proud, reeling in hundreds of visitors every year. With the beach lining one side and vendors, and confections lining the other, there's no tiring of this walk. The boardwalk was made to be enjoyed at all hours of the day. For early risers, you can head out and run or bike the expanse of the boardwalk as early as 6 a.m. Enjoy the glow of the Atlantic Ocean in the daytime and soak in the enormous neon signs that liven the boardwalk at night. Fishing and surfing are popular during warm-weather months. But even in cooler weather, the dozens of alluring casinos, restaurants, shops, bars, and clubs offer visitors plenty of entertainment all year round.
edwin b forsythe national refuge
Explore The Untouched At The Edwin B. Forsythe National Wildlife Refuge
Set just far enough away from the hustle and bustle of the city, yet close enough to still feel within reach, Galloway is one of New Jersey's cherished escapes. But even beyond its legacy as a favored destination, this township grants access to another side of life—at the Edwin B. Forsythe National Refuge.
Learn More
atlantic city, new jersey boardwalk at sunset
Down By The Boardwalk
Built in 1870, The Atlantic City Boardwalk, still stands long and proud, reeling in hundreds of visitors every year. With the beach lining one side and vendors, and confections lining the other, there's no tiring of this walk. Due to COVID-19 restrictions, face masks and social distancing are strongly encouraged. But that doesn't impact the fun to be had on the beaches, and in the restaurants, currently operating at limited capacity.

The boardwalk was made to be enjoyed at all hours of the day. For early risers, you can head out and run or bike the expanse of the boardwalk as early at 6 a.m. Enjoy the glow of the Atlantic Ocean in the daytime and soak in the enormous neon signs that liven the boardwalk at night. Fishing and surfing are popular during warm-weather months. But even in cooler weather, the dozens of alluring casinos, restaurants, shops, and bars offer visitors plenty of entertainment all year round.
bride and groom posing for photo on their wedding day
Plan Your Dream Wedding
We know that these unprecedented times make it difficult to plan your special day, but we're here to help.
For decades, Seaview has opened its doors to some truly exquisite weddings. With venues of all sizes and views and professional teams of wedding planners ready to walk you through every step of the way, it's never too early to begin planning your own world-class wedding.
Choices are important when planning a wedding, and Seaview offers you plenty of them. Whether you fancy the Bayview Ballroom, Bayview Terrace, Presidential Ballroom, elegant Main Dining Room, or many more, you can be sure your wedding will be unforgettable. The stunning courtyard and surrounding backdrops will add the perfect touch to your perfect day, and outdoor weddings are perfect for today's climate. A beautiful, socially-distanced wedding has never been more possible.
Seaview offers help for every step of your wedding, including help selecting the perfect honeymoon destinations. Now that you've said yes to your person, get ready to say yes to your dream venue too!
smiling couple hugging each other
A Romantic Seaside Escape Awaits You
With the season of love just around the corner, we can't help but lean into the romance of our nostalgic hotel and serene 670-acre property. Nestled into a quiet stretch of coastline along Reeds Bay, we offer an intimate getaway for couples who want classic resort-style amenities and fine dining while being close to the excitement of Atlantic City.
Learn More
prime rib
'Tis The Season Of Delicious Dining
At Seaview, we believe the hallmark of the holidays should be delicious meals to gather around with the ones you love most. Under the direction of our longtime chef, Rodolfo Correa, our culinary team offers several unforgettable culinary experiences for the holiday season plus weekly specials, so you can truly savor the moment whenever you stay with us.
On Christmas Eve, join us in the Seaview Main Dining Room for hearty Italian Night specials plus a complimentary glass of Champagne to toast to the season. Then on Christmas Day, our kitchen treats you to an exclusive three-course menu featuring festive staples like butternut squash bisque and slow-roasted prime rib.
Learn More
thanksgiving meal with friends around the table and the turkey in focus
A Seaview Thanksgiving for Everyone
Every year at Seaview we look forward to hosting Thanksgiving and bringing families together. This year, in a celebration of family coming together, we invite you to experience the holiday with us, in-person or to-go!
Following CDC guidelines, WHO recommendations, and local standards, guests will dine in a safe and socially responsible environment. Treat your friends, family, and loved ones to a 5-course meal prepared by our longtime Executive Chef, Rodolfo Correa.
Take it easy this year, and let us handle kitchen duties. This Thanksgiving, we're taking to-go orders, so no one misses out on the celebration. Serving all the holiday favorites, our menu includes a few delights made with an added touch of New Jersey flair.
Make an OpenTable reservation, or place an order to-go. You have options this holiday, and they're all delicious. From our Seaview family to yours, we can't wait to see you here!
a man sitting back in a chair thinking while working on the computer
Work From Your Seaview Office By the Bay
Though working from home is convenient there can be unforeseen challenges. Considering the fluent changes in both your work and personal life routine, we've taken proactive steps to give you a much-needed break from the distractions at home. Create the perfect work-life balance in a well-appointed office at Dolce Seaview. Our specially selected suites feature a number of unique designs and amenities to enhance your presentation capabilities and productivity levels so you maintain high performance away from the office.
Learn More
female golfer copy 2
ShopRite LPGA Classic Sponsor Exemptions
The Annual ShopRite LPGA Classic presented by Acer is returning to Atlantic City on the Bay Course at Seaview, A Dolce Hotel. A must event for golf's biggest and upcoming stars, Hinako Shibuno, Natalie Gulbis, and Brynn Walker have all accepted sponsor exemptions to this year's tournament.
Learn More
absecon lighthouse in atlantic city new jersey
New Jersey's Tallest Lighthouse
Just a 20-minute drive from the resort, the iconic Absecon Lighthouse is not only one of the country's oldest lighthouses; it's also the tallest lighthouse in all of New Jersey. For just a small fee, visitors can climb the 228 steps to see breathtaking vistas of the Atlantic City Skyline and view the original first-order Fresnel Lens, first lit in 1857. Recently, the lighthouse underwent a multi-million-dollar restoration which expanded the grounds of the property and added multiple amenities. One of the most exciting additions is a stunning replica of the 1925 Lightkeeper's dwelling, including a museum that exhibits the lighthouse and keeper's history, shipwrecks, ocean life, and much more! Besides the climbing fee, all other attractions and parking are complimentary and dog-friendly. The lighthouse holds many monthly events, such as a murder mysteries, nighttime climbs, haunted lighthouse tours, and—happening now through August—free yoga every Thursday at 6PM. With all there is to do and see at Absecon Lighthouse, it's sure to make the top of your list on your next visit to Atlantic City.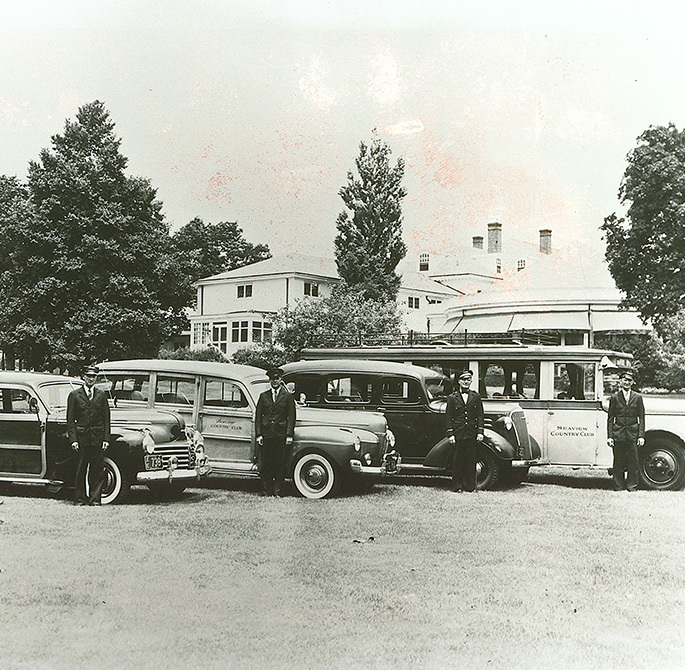 Historic photo of men in front of buses for the Seaview Country Club
A Closer Look at Seaview's Opening
In 1914, after getting frustrated over a lengthy wait to get on the first tee at a local golf club, Philadelphia businessman Clarence H. Geist made the decision to launch a private golf club of his own. He opened both the Bay Course and the original clubhouse in November of that year, with the official opening occurring on January 9, 1915, at the new Seaview course, followed by Seaview's first tournament the next week.
The opening was covered in the February 1915 issue of The American Golfer by the distinguished golf writer and course designer Albert Warren Tillinghast. According to his piece, Tillinghast was impressed to see midwinter play in the North and admired the good quality and contours of the greens. Upon touring the clubhouse, he was charmed by the spacious rooms and harmonious decor, even choosing to stay for dinner and dancing later that night. In summary of his experience, Tillinghast wrote, "The evening was one which Seaview would long remember," and he was right—we continue to celebrate our grand history to this day.
hotel maid wearing a facemask
Our Response to COVID-19
We are eager and ready to welcome you back to Seaview! Due to COVID-19, we have increased the frequency with which our facilities are deep-cleaned and sanitized. In order to operate safely, we have implemented new hygiene and social distancing measures for our guests and staff to follow. We kindly ask you to sneeze or cough into your elbow, and if you are feeling any symptoms of COVID-19 during your stay, we ask you to immediately notify hotel management and seek medical attention. We also request that you refrain from engaging in any unnecessary physical contact with other guests or staff and maintain at least six feet of distance from other traveling groups and staff. Occupancy will be limited as necessary to ensure social distancing guidelines if areas begin to get too crowded. We are very excited to get back to normal, but we want to ensure that everything possible is being done to keep everyone safe. With that said, we look forward to seeing you!
Atlantic City boardwalk with ferris wheel and visitors in the distance
Get to Know Atlantic City
Atlantic City has always been a popular destination for guests of Seaview, a Dolce Hotel. Construction on Atlantic City's world-famous Boardwalk began in 1870, and from then on it has become an American icon. One of the few American beaches with boardwalks, everything you could possibly want is within walking distance, from shops to restaurants to casinos, attractions, and shows. If the ocean is more of your thing, you can swim, surf, fish, or embark on a relaxing cruise. The boardwalk is meant to be enjoyed at all hours of the day, from the daytime when the Atlantic Ocean shimmers in the sunlight to the evening when the glow of the neon lights fills the night sky. While ocean activities are popular during the warm-weather months, Atlantic City has plenty of fun to offer all year round with its unique variety of shopping, dining, and entertainment opportunities.
father and son golf copy
A History of Seaview Told Through Golf
Seaview may have been started as a way for Clarence Geist to avoid long golf lines, but over the years it has transformed into so much more. For over a century, Seaview has been bringing a world-class experience to golf enthusiasts from all over the world, and there's a bit of something for everyone.
Throughout the years, Seaview has been the host of many golf championships. In 1942, one hosting of the PGA Championship resulted in a golfing miracle. Sam Snead began his major winning streak on The Pines course, where he sank a 60-foot chip-in. This feature was astonishing enough to warrant the creation of a monument that guests can enjoy. Try your luck on the same hole!
Learn More
Geist and president Harding outside Seaview, a Dolce Hotel
Seaview: A Rich Past for a Wonderful Future
When Clarence Geist saw the lines at his local golf clubs, he decided he had enough and would build his own. Who knew that this recreational decision would lead to the creation of the premier hotel that you see before you today. Over the years, Seaview has built a rich, diverse history that helps gracefully propel it into the future.
Learn More
couple looking for christmas gifts
Feel the Holiday Spirit
There really is no time of the year like the December holiday season. With so much cheerfulness and excitement in the air, it's only natural to want to experience as many festivities as possible. Luckily, Galloway has many great surrounding areas that are perfect for experiencing all that winter has to offer.
Historic Smithville hosts one of the best local holiday attractions: the Christmas Light Show. For all of December and the first week of January, Lake Meone will be marvelously decorated with Christmas lights that are bent and twisted around all sorts of figures. Come any night that you would like and make sure to bring the whole family for an enchanted evening!
Learn More
thanksgiving meal with friends around the table and the turkey in focus
Thanksgiving at Seaview
This Thanksgiving, don't settle for the ordinary. Skip the cooking and bring the whole family to Seaview for our Thanksgiving Feast. This full buffet will feature all of your Thanksgiving favorites as well as delectable new additions that will spice up your meal.
Start off with some bites off of our artisanal cheese and charcuterie board. Enjoy the finest domestic and imported cheeses alongside cured meats. Accompany your cheese and meat starters with some homemade soups, like the white bean and kale, or a freshly crafted salad like the roasted golden beat salad.
Learn More
halloween cookies and pumpkins
Trunk or Treat in Galloway
Figuring out how to celebrate Halloween with the family can be a bit tricky when you're on vacation. You don't know where to trick-or-treat, but that doesn't mean the kids aren't demanding full-sized candy bars! This year, the answer to your troubles is the pre-Halloween trick-or-treat extravaganza known as Galloway Trunk or Treat.
Trunk or Treat is an annual event where local volunteers and various non-profit organizations all gather around to decorate the trunks of cars and fill them with loads of candy and other treats. Children can then walk around to each trunk and fill their bags with as much candy as they can hold! While they're encouraged to dress in their Halloween spookiest, there's absolutely no pressure to do anything other than enjoy some Halloween fun.
Learn More
beer and soft pretzel oktoberfest
Authentic Celebration with Oktoberfest at Historic Smithville
Guests looking to take a short day-trip around the Galloway area have many great options other than Atlantic City. The smaller towns in the area have a very rustic atmosphere and can be some of the coziest places in New Jersey. One such town is Historic Smithville and on the weekend of October 5th, the town hosts one of the best Oktoberfests on this side of the Atlantic!
Oktoberfest in Historic Smithville means over 100 pop-up shops with local, artisan crafters showing off their rendition of German culture. This is combined with the best brats, beer, and other German favorites around. Keep your belly full and stein topped off as you explore the lederhosen packed stalls and meet the friendly locals.
Learn More
plate of a lot of different seafood including crawfish and oysters
A Seafood Buffet to End Them All
There's a reason why locals get very excited about this time of the year. Year-long alarm reminders have been going off like crazy, which can only signal the start of Seaview's Seasonal Seafood Buffet. Well technically, the buffet began July 25th, but regardless, we invite you to join us every Thursday from 5:00 pm to 8:00 pm until September 5th, as we host the best seafood buffet in New Jersey.
With so much excitement around seafood, and the amazing local produce that New Jersey offers, seafood buffets may seem like a dime a dozen. For regular buffets, this may be the case, but Seaview's Seasonal Seafood Buffet is anything but regular. Guests will enjoy the finest lobster and snow crab claws around. The crab cakes are so meaty that you'll wonder why they're even called cakes. The raw oyster bar has only the most pristine selection, and steamed options are always cooked to perfection.
Learn More
symphony orchestra
Atlantic City - a Unique Blend of Art and Culture
It's no secret that Atlantic City is a prime choice for lively entertainment. However, this idea often overlooks an important part of Atlantic City - its arts and culture scene. This summer, compliment your luxurious stay at Seaview with an enriching trip to Atlantic City.
Patrons of fine live performances will find a lot to do in Atlantic City. Dante Hall Theater of the Arts hosts plays, concerts, and other performances. The Atlantic City Ballet has been dazzling guests for over 30 years with renowned dancers and expert choreography.
Learn More
A double bed room at Seaview, a Dolce Hotel with morning light coming in through the windows
Cheers to New Beginnings
This summer, set your sights for the shore of Galloway, New Jersey and be one of the first to experience the grand reopening of Seaview, a Dolce Hotel. Since its inception in 1914, Seaview has become a historic center that has hosted a plethora of artists, musicians, actors, and more. Now, we mark the beginning of a new future and invite you to join us as we unveil the result of our six-month multi-million dollar full renovation.
Seaview has fully transformed its 296 guest rooms with your comfort and relaxation in mind. A modern finish paired with cool, blue tones will remind you of the Bay's enduring coastal beauty and legacy. As Seaview aims to be a retreat for both leisure and businesses travelers, our redecoration includes redesigns of our 21 meeting rooms in an effort to help better stimulate productivity and creative thinking. You will be able to ditch the boring mid-day coffee breaks and welcome fresh, energizing all-day refreshments designed with a simple idea in mind: thoughtful foods for thoughtful minds.
Learn More
female golfer
Swing Over for a Remarkable Weekend
Over the years, the Ladies Professional Golf Association has become so popular that even a small tournament featuring one or two superstars draws a huge crowd. Well, how about one that averages an attendance of 96 out of the top 100 players on the money list? This year, from June 7 to June 9, Seaview, A Dolce Hotel is proud to host the annual ShopRite LPGA Classic Presented by Acer - one of the largest tournaments in the world showcasing top female golf talent.
The tournament will conveniently be held right on Seaview's own Bay Course and we offer a combined package that not only includes tournament admission, but also the opportunity to swing the day away at our sister course, Pine Course. Families can also share hours of fun at The Oreo Family Fun Zone. With fans flocking from all around the world, spaces are limited so make sure to reserve your unforgettable weekend sooner rather than later!
Bride and groom toasting champagne glasses together
Start Planning Your Spring Wedding
There may still be a chill in the air, but it's never too soon to start envisioning your spring wedding next year. The Northeast is known for its long winters, followed by a lovely spring blooming with life. Here at Seaview, our surrounding grounds are about to come to life with gorgeous blooms, bright green foliage and a calming breeze up our sprawling 670-acre golf course. We suggest visiting us soon to get a feel for what your spring wedding 2020 could look like for you and your guests. We highly recommend playing a round of golf while you're here. That way, you can pass along details to your wedding guests who may want to partake in a round or two during their stay. We can't wait to help you bring your wedding to life!
wedding dinner table setting
Say "Yes" On the Most Romantic Day of the Year
As we approach February 14th, many couples will take the holiday as the opportunity to take their relationship to the next level. With so many engagements happening around this time, a wise couple will make sure to book a venue far in advance! Here at Seaview, we have a multitude of award-winning venues to choose from. Whether you're looking for a scenic outdoor wedding, lavish indoor reception, or an intimate gathering to tie the knot, our hotel has been recognized by The Knot for 4 consecutive years! With our hotel currently undergoing renovations, those looking to stay on property during their wedding experience will be privy to the newest upgrades we're making to our rooms, suites and dining facilities. To get started on planning your wedding, please contact us at (609) 748-7660 to speak to one of our onsite event coordinators and let us do the heavy lifting for you. Have a happy Valentine's Day lovers!
entrance to Seaview at nighttime with flowers
Choose The Dream Venue for Your Wedding
Right behind the bride or groom's attire, location is what you fantasize about most when it comes to planning your dream wedding. After all, the perfect setting serves as the backdrop to your love story and it's important to set the right tone. Perhaps an intimate ceremony in a gazebo is all you've ever wanted? Or a 400-guest reception in a grand ballroom? Whatever fantastic venue you've always had in mind, here at Seaview we have the versatility to accommodate the wedding of your dreams.
Our indoor and outdoor venues, with the capacity to accommodate as many as 400 guests, can suit intimate or grand ceremonies, lavish or understated receptions, and various pre- and post-wedding events too. Choose from one of many spaces such as the Bayview Ballroom, Bayview Terrace, Centennial Pavilion, Presidential Ballroom, Oval Room, Main Dining Room, and Oval Lawn. Give us a call today to schedule a tour and start planning your dream wedding!
nutcracker ornament
Lake Meone Makes for a Magical Christmas
Delight in a display of over 120 floating Christmas Trees constructed from over 50,000 Christmas lights that magically float atop Lake Meone. Historic Smithville has quite the holiday treat!
Thursday through Sunday, as soon as the sun sets at about 4:30 p.m., an orchestrated show of lights and music floats across the lake. Lights dance and follow one another while holiday favorites can be heard all throughout the village.
Whether on one side of the village or bridge or the other, the show can be seen and heard all around. The show runs from Thursday, November 22 to Sunday, January 6 so don't miss out!
handmade soaps
Enjoy the Holidays at the Historic Smithville
Take in the adorableness of Historic Smithville, located in Southern New Jersey. Smithville is composed of a collection of quaint wooden clapperboard-style houses, local shops, and restaurants. Smithville has a rich and vibrant history, from farmers fighting the British for their land to tales of the infamous Jersey Devil and his sightings at the swamps. November in Smithville means Fire on the Lake at the beginning of the month and the Holiday Light Show at the very end of November. It also means visiting the Talking Christmas tree, plenty of opportunities to get your Christmas shopping done at the 70+ shops, and about 7 taverns to quench your thirst and elevate your spirits.
Learn More
close up of drummer
Jammin' At The Jazz Fest
If you love jazz, make plans now join like-minded music lovers for the Exit Zero Jazz Fest, scheduled November 9-11, 2018 at the Cape May Convention Hall and various venues around town. Highlights of the three-day weekend include more than 40 sets by some of the world's most accomplished jazz artists, including five-time Grammy winner and newly minted NEA Jazz Master Dianne Reeves and two-time Grammy winner Marcus Miller. The fun kicks off with the traditional pre-opening benefit concert on Thursday, November 8. This year, the fest gives a nod to the birthplace of jazz in "A Night in New Orleans: A Benefit Concert for Music Connects" featuring the legendary Kermit Ruffins and the Barbecue Swingers. Score a three-day pass, a single-day pass, or pick the performances you can't miss at exit0jazzfest.com. And if you're wondering about the festival's name, that's easy: It's named for the exit to Cape May off the Garden State Parkway.